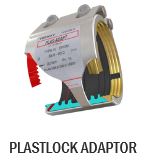 Teekay Plastlock Adaptor
The Teekay Plastlock Adaptor coupling joins plastic pipes to metallic pipes and acts as a transition piece between the two materials.
Incorporating the Teekay multiple seal gasket, the design concept has been followed through from the Plastlock and consists of a gripping ring specifically for gripping plastic pipes on one side, and a gripping ring specifically for gripping metallic pipes on the other side.
The dual gripping mechanism means that the best axial restraining mechanism can be used for each pipe material and that the integrity of the axial restraint is never compromised. Even small differences within pipe ODs can also be accommodated.